GetRight
Download
SIC 2006 and the People's Choice Award
We went to the Shareware Industry Conference in Denver. There were lots of good sessions, and we gave a bunch of demos for
GetRightToGo
(with some very excited responses.)
At the awards banquet, we were just relaxed in the back of the room. We weren't nominated for anything this year, and hadn't won anything since the People's Choice award in 1999, so didn't expect anything.
We were whispering with a friend we see at the conference (Tom from ChickenGirl Software) about one of the previous winners, Google Earth, saying how cool it was...when we heard the MC say "... Headlight Software." Peter and I both jumped up saying "What! We won something!" I assumed it was for GetRight, but had to ask to be sure!
GetRight won the SIC 2006
People's Choice Award for "Best Internet Enhancement".
The acceptance speech was just me yelling "Woo Hoo!" and giving high fives on the way back to our seats. If I'd been prepared, it would have been something like this:
To start, we have to thank everybody who uses and recommends GetRight. And especially all the people who voted for us for this award!

Thanks to Peter who has helped with everything over the years, Shawn for keeping the support emails up to date, Mom for keeping the IRS happy, and last but not least my wife and minion Rebecca for everything (including letting me stay up past midnight programming!)
Some Photos: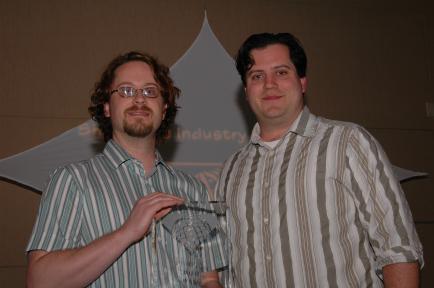 Michael (left) and Peter (right) with the award.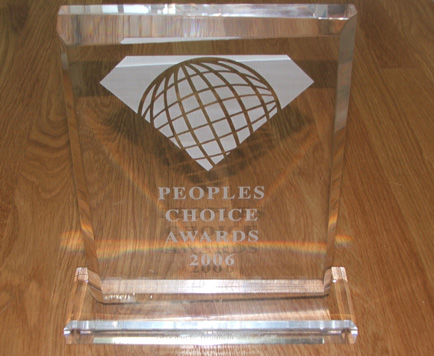 The trophy!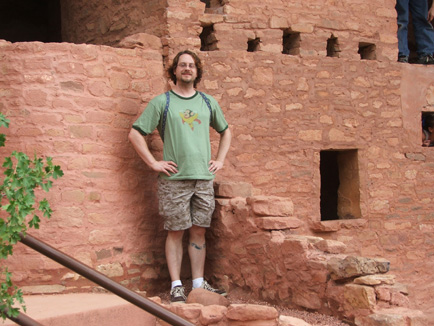 If you're ever in the Denver area, it is worth a trip to the Anasazi Cliff Dwellings near Manitou Springs.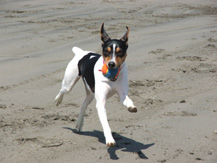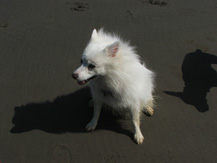 And as long as I'm posting pictures, our dogs, Isabella (left) and Makena (right).