GetRight
Server Synchronization with GetRight
GetRight's server synchronization features are powerful tools for gathering and downloading many files from a web site or FTP server. This functionality has many uses, including:
Downloading entire collections of music, images, or video from a website.
Downloading large installers consisting of many files (such as Linux).
Keeping business documents on your laptop current in preparation for business travel when access will be limited.
Downloading entire websites for offline viewing.
Downloading entire contents of FTP servers.
Downloading entire contents of FTP servers.
GetRight Pro: Updating your website.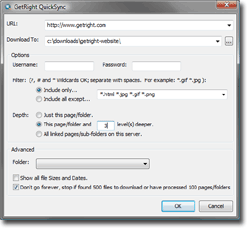 The uses of this technology vary so much, that GetRight has provided several tools depending on your specific needs.
Server Synchronizer
This tool lets you build and save a search which can later be repeated when files are added or updated.
You can download entire web sites, or use filters based on file name, type, or directory to only get the particular files you want.
Additionally, various checks can be put in place to only get new files, or to look for updates in current files, etc.
GetRight Pro: includes uploading for FTP servers (if available). This feature can then be used to update your own web site.
QuickSync
A "One off" search tool that is designed for files that you want to download now, but probably won't need to come back and download again.
QuickSync, as the name implies, lets you quickly scan a website or FTP server for files.
GetRight Pro: uploading is not available through QuickSync.
GetRight Browser
Similar to FTP clients, this lets you navigate a server and see what files are available. What differentiates this from FTP clients is the ability to view HTTP servers. When viewing web sites, GetRight will parse the web pages to find links to files and other pages. This allows you to navigate the links on pages as though they were directories and files.
GetRight Pro: uploading is available for FTP servers.